The key to a successful campaign is precise and detailed report. Now with BeMob you can manage your campaigns and see the report on IP subnets.
Analyzing IP subnets reports will help to increase the offer's convert and optimize your campaigns.
Earlier our users could see the data for a certain IP address only. Now when the data on IP subnets is available, you can see the ranges that bring the highest or lowest conversions rate.
To see the IP range report click the IPs tab.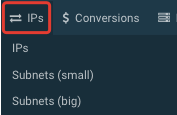 You can still see the data on all the IPs. However now you can select small and big subnets.
You can create multi-step reports, using this data – combine small and big subnets by selecting them from the drop-down list at the left.

Hope that this reporting option will help to increase the effectiveness of your campaigns.
---
We are always glad to answer your questions – contact us.
skype: BeMob Support
telegram: @bemob