We are glad to announce that multi-user access is available now with BeMob.

Multiple users access enables working in the same account to all team members. 
Each group member receives individual access permits for editing and viewing the data.
This allows to manage the performance of each user in the most efficient way.
How to start?
Log in to your BeMob account and find Settings on the panel. Click User management tab.

To add a new user to the team press

In the new window with settings create a login and password.

Select a role. Admin and User options are available.
Admin receives the complete access to account management, except for subscriptions and domains settings.

User Access
You can manage the access to create campaigns and its items.


Full user access provides the ability to access all the data added beforehand.

With Only selected items active, it is required to choose items from the access permission list.

Access to the item can be provided or denied completely and limited to reading only.

Note: Selected access type will be applied to all items from the list.
If it is required to limit access to read only type, select this type for all the campaigns. Each campaign from the list will be available only for reading.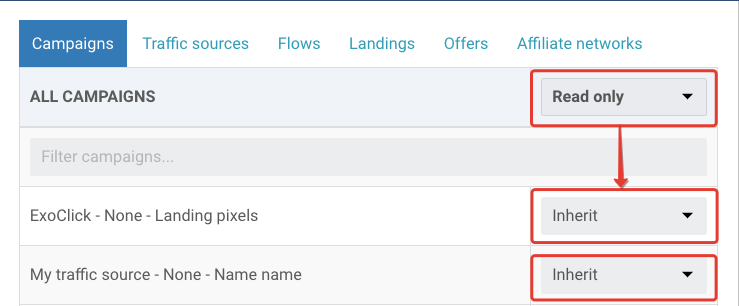 It is possible to select different access types for each campaign from the list.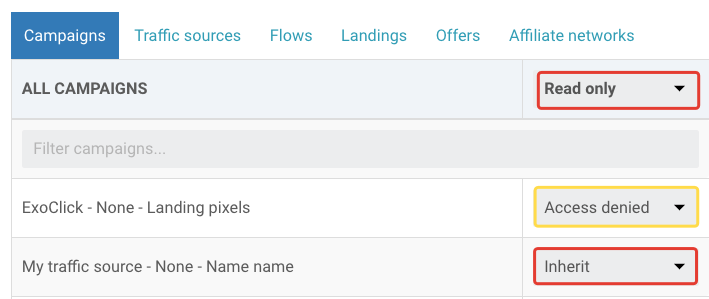 Don't forget to add a user name.

To hide the data on profit mark the checkbox

After settings were saved it is possible to edit the role and access permission and delete the record.

With BeMob media buying teams can work in same account. This helps to manage performance of each user in the most efficient way.
---
Looking for your feedback – we grow and move forward with your help!
support@bemob.com
Skype: live:pr_1688
Telegram: @bemob