We are glad to share good news with all our users: BeMob is integrated with Clickbank.
If you have already worked with ClickBank , you know that it was always complicated to set conversion tracking between this network and a third-party tracking solution.
With BeMob conversion tracking with ClickBank has never been so quick and easy: no third-party scripts. Let's show you how it can be easily done.
ClickBank Secret Key
To get the access to Instant Notification System (INS) it is required to insert Secret Key from BeMob on the ClickBank side.
Log in to your BeMob account
Press Settings and then Tracking URLs
Scroll down to ClickBank integration section
Copy ClickBank Secret Key 

Access to ClickBank Instant Notification System (INS)
Log in to your ClickBank account
Press Settings and select My site from ClickBank panel
Scroll down to Advanced Tools section
Press Edit

Insert ClickBank secret key copied from BeMob

After the access to ClickBank INS is granted, you will be able to continue the setup process.
ClickBank Instant Notification URL
Get back into your BeMob account
Press Settings and then Tracking URLs
Scroll down to the ClickBank integration section
Copy ClickBank Instant Notification URL

Insert ClickBank Instant Notification URL in one of the empty fields in ClickBank.
Press Test IPN button to enable functionality.

      You will see Verified badge if testing is successful.

Press Save changes button to finish the setup.
Instant Notification URL with verified badge will be available in Advanced Tools section.

After Instant Notification Access settings are finished, you can move on to further steps.
Affiliate networks settings
Go back to your BeMob account
Select Affiliate networks tab
Click New from templates 
Use search bar to find ClickBank. We have already added this network to our templates.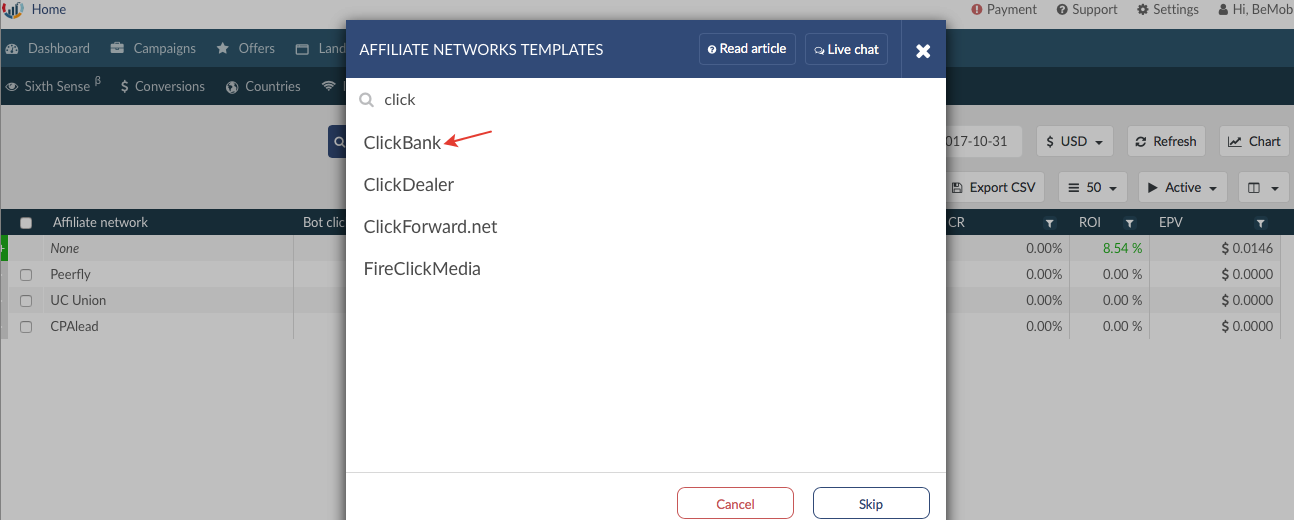 All the settings will come up automatically, when selecting ClickBank. Press Save to make this network available for future setup.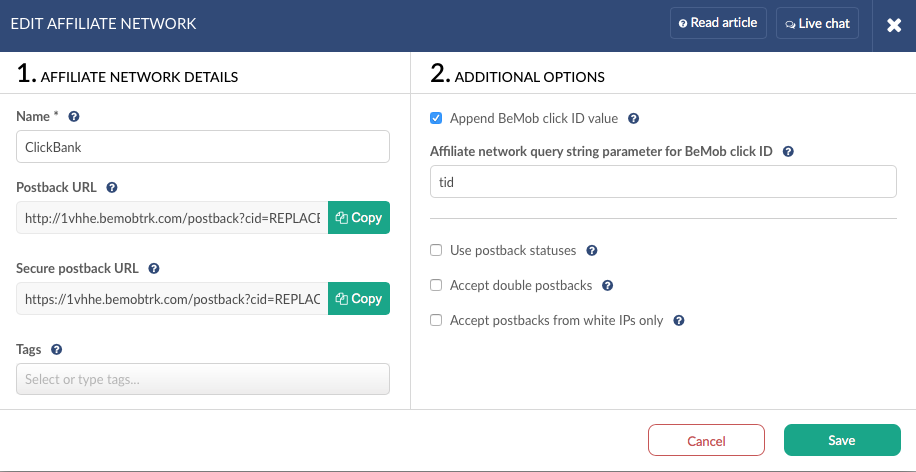 Offer selection
After affiliate network was set, return yo your ClickBank account to select offers
Click Marketplace tab to get access to the offers' list

Select a category and choose the required offer
Press Promote button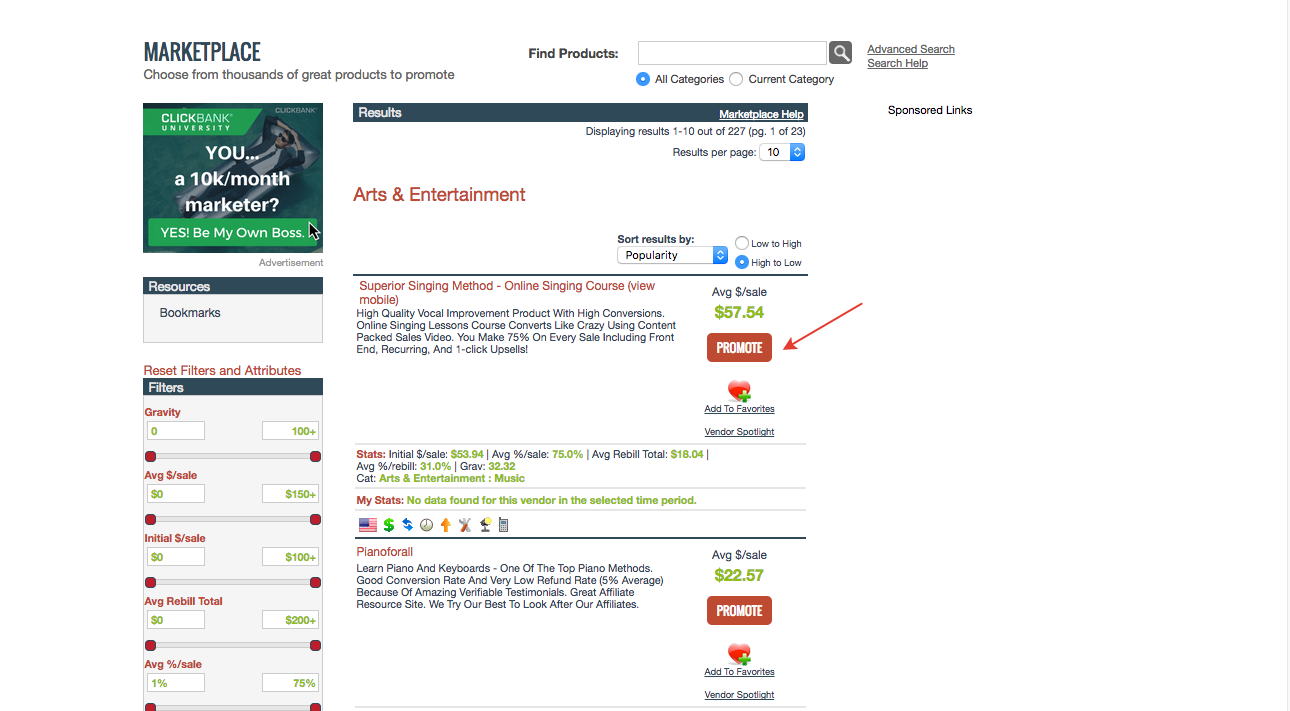 After Promote button is pressed, a new window will appear with your nickname and tracking ID fields.
Tracking ID entering step can be skipped with appending BeMob click ID option enabled in affiliate network settings in tracker.
Click Create to receive the affiliate link.

Copy the appeared offer link and close window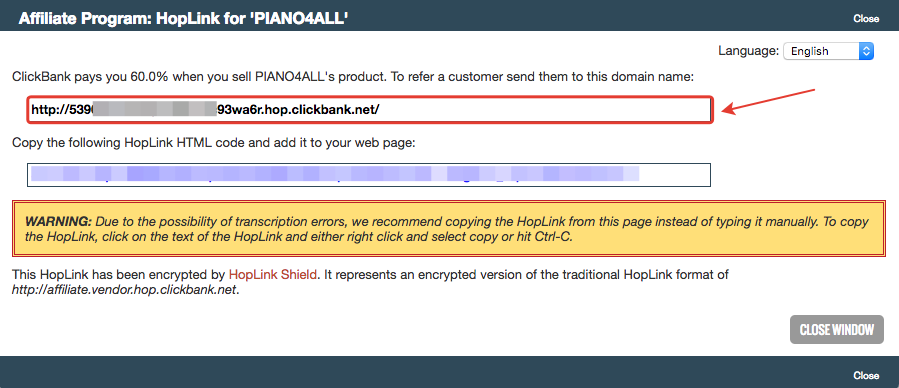 Offer setting in tracker
Click Offers tab on BeMob panel, then press New
1. Set a custom name for offer
2. Select country of your offer
3. Choose affiliate network from the list of created beforehand
4. Insert the copied offer link in URL field.
5. Click ID parameter was specified in affiliate network settings. Therefore this option can be skipped, when adding an offer.
6. Select the offer currency
7. Select payout type as auto
8. Press Save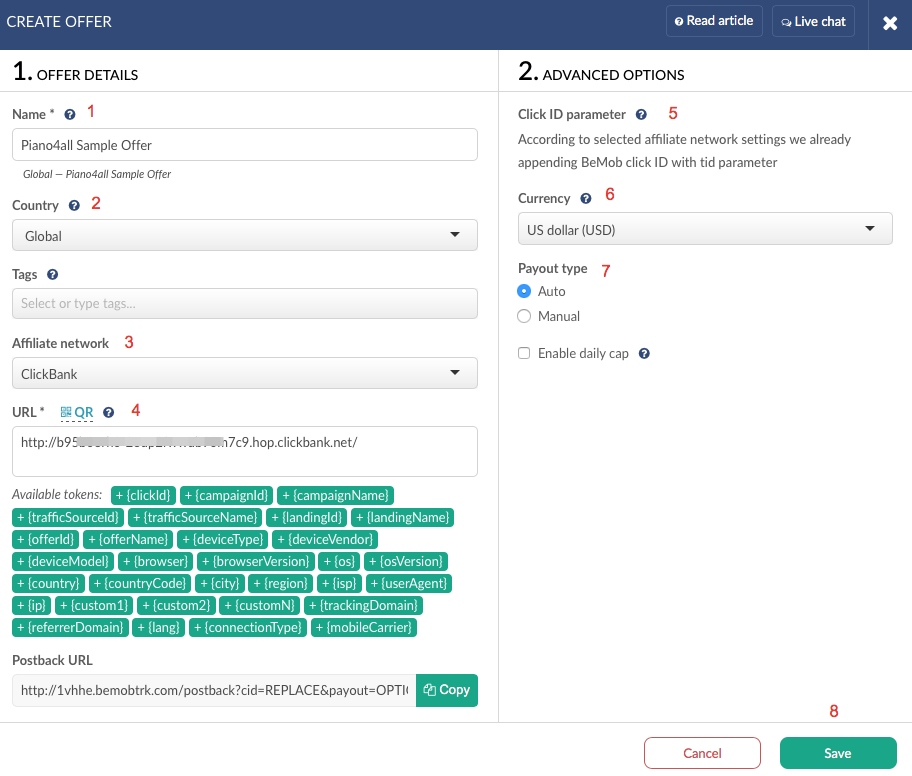 As you can see, the settings are very simple – BeMob provides the simplest solutions to solve your complicated issues.
If you have any questions, we are always glad to answer in live chat.