Integrations with PropellerAds, Revcontent, Exoclick and MGID
This is the first part of complete integration with these and other requested traffic sources. At the moment the integration part includes the automatic cost update via API.
The cost collection via API is considered the most accurate method at the moment.
To set up the automatic cost collection with PropellerAds, Revcontent, Exoclick and MGID it is required to contact our support team via live chat with the request to integrate with one or all these sources.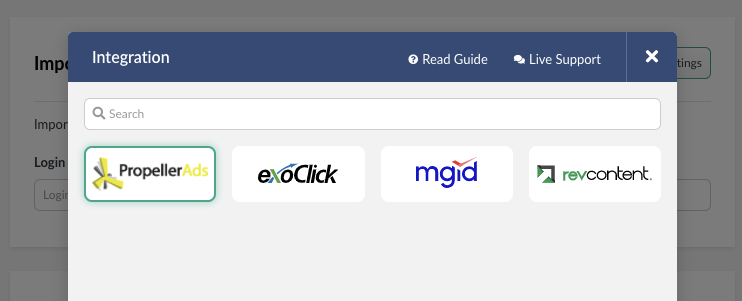 Once the integration is available in your account it is required to specify the API key of the corresponding traffic source in the Integrations section and then select the integration on the level of traffic source settings.
See the detailed description of the integration processes in our dedicated guides:
Hidden Revenue
This update is relevant if you are using the Send Postbacks % which allows to forward only a part of conversions to the side of your traffic source.
Previously with this option used the Revenue column also included the payout received on all conversions. Now with the Hidden Revenue column you can see the payout of conversions which have not been sent to your traffic source.
This allows to separate the conversion data which has been forwarded and the data which has not been disclosed to your traffic source.
To enable the Hidden Revenue column in your reports it is required to access the columns settings and mark the checkbox.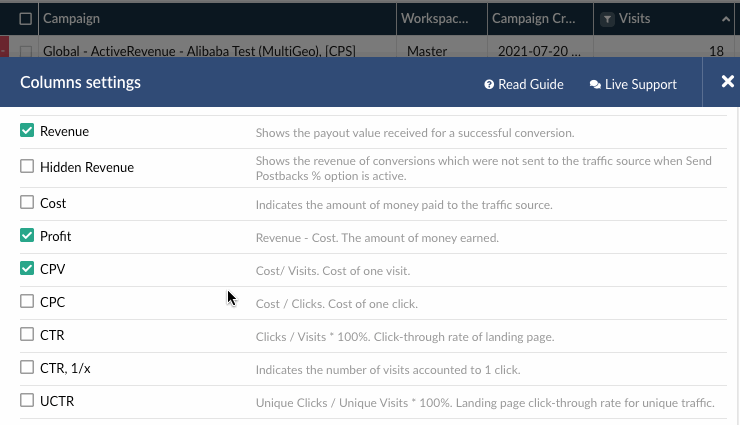 We will continue to introduce new options for the most convenient work with BeMob.