The routine tasks steal our precious time which should be spent on other activities such as optimization of campaigns or even on little rest.
Let us introduce you to BeMob features that will help to free some time for yourselves and your hands for a cup of coffee.
This post is dedicated to BeMob top 7 tools to speed up the routine.
Marks
Marks are small icons that help to make your stats more visual.
In the BeMob panel you can use 8 marks to highlight the best or worst-converting offers and traffic sources, the profitable or unprofitable campaigns, landing pages with the lowest or highest CTR.
Besides you can use marks to analyze the reports on custom params received from the traffic sources to create white and black lists.
These lists help to optimize your campaigns via identifying the best and worst-performing websites, pub IDs, zone IDs etc.
💡 How to use marks for creating white and black lists:
go to the report on custom params for one or several campaigns
select the required timeframe
mark the website you wish to blacklist with the icon on your choice
specify this mark in the search field
click on Export CSV
The list can be used to stop the traffic from non-converting zones on the side of the traffic source.
This is one of the basic, but proven methods to optimize your ad campaigns.
Notes
Сame up with an important idea about campaign optimization?
Describe it right in the BeMob panel. Use the notes to keep track of what's important.
Leave your notebook or paper sticky notes to dust. With the help of notes there is no need to use other tools.
💡 How to use notes:
go to the Campaigns section
select the required campaign
click on Notes button
leave a short message for yourself
Currently notes are implemented for campaigns only, but we are planning to spread out this feature on all the elements.
Bookmarks
This feature works the same way as a bookmark in your browser.
Access to the mostly viewed and important reports in BeMob with one click.
You can create a bookmark for any type of report.
💡 How to use bookmarks:
create the required report
select the timeframe and reports groupings, if required
click on star icon
set up the name of bookmark
perfect!
All the reports will be stored in the Bookmarks sections on the right side of the BeMob panel and can be easily accessed anytime.
Tags
This is one of the mostly liked features with BeMob clients.
Tags are essential to help you with organizing the list campaigns and other elements.
When working with a significant amount of elements, it is easy to get lost in the lists and names. Tags feature enables grouping and searching by required key words.
💡 How to use tags:
set up one or more tags when creating the element
specify this tag in the search field if you struggle to find the element by name
BeMob allows you to search by tags using AND & OR logic.
When Tags (AND) is selected, the search is made through campaigns or elements that contain all specified tags.
If you select Tags (OR), campaigns or elements with at least one of the specified tags will be displayed.
Tags are available for all the BeMob sections: campaigns, traffic sources, affiliate networks, offers, flows, landing pages.
Import of landings and offers
Tired of creating offers and landing pages one by one? Here is the solution from BeMob – use import to create offers and landing pages in bulk.
💡 How to use import:
access the tab of Landings or Offers
click on Import button
specify the name, URL and other details of your future landing pages or offers
import elements
you're great!
Offers and landings will be available immediately. Import option allows you to upload up to 100 elements at once.
Mass Editing
This is a magic wand when you need to quickly edit domains or other settings. This feature is available for offers, landing pages, campaigns.
💡 How to use:
select the items you want to edit
click on Bulk Edit button
mark the checkboxes you wish to edit
specify the new values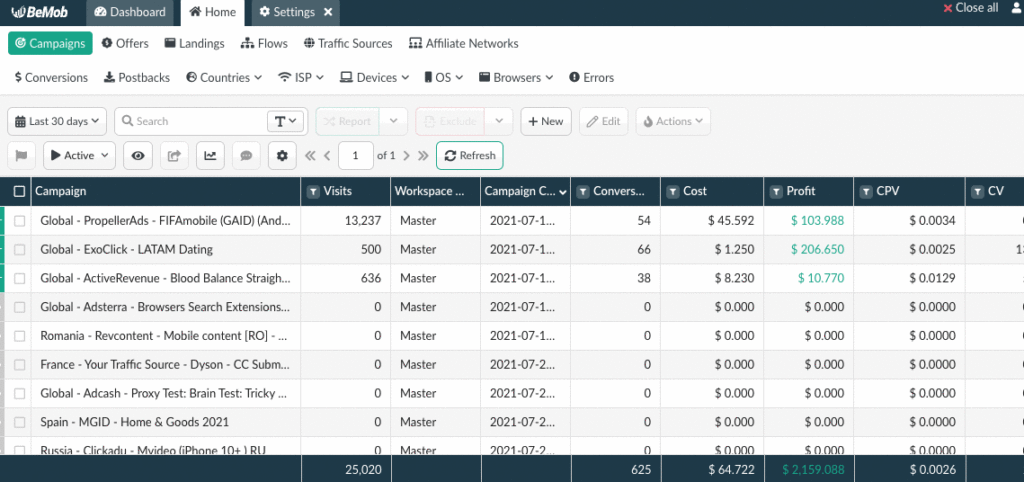 Nice and easy, isn't it? Once you get the notification from an affiliate network about the domain change or your campaign's domain is banned, you can replace them immediately with no traffic loss.
Shared Reports
Share your live reports with the partners, colleagues, affiliate and ad networks without giving them the access to your BeMob account.
Each report will be available under the separate link.
💡 How to use:
create the required report
select the time frame
specify the time until which the report will be accessible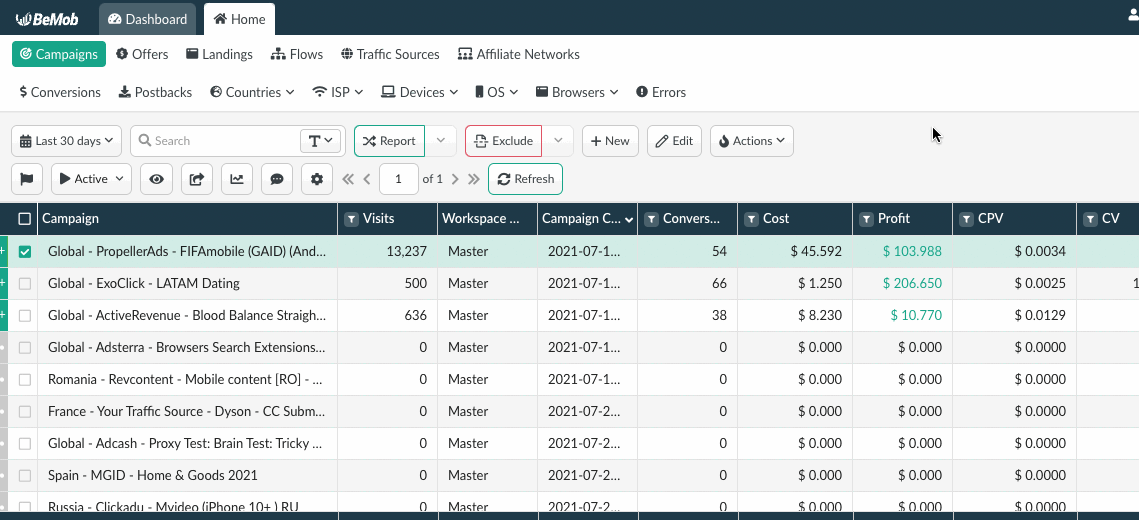 All your shared report links will be stored in the section of Multi-user Access, so you can manage the access to it from there.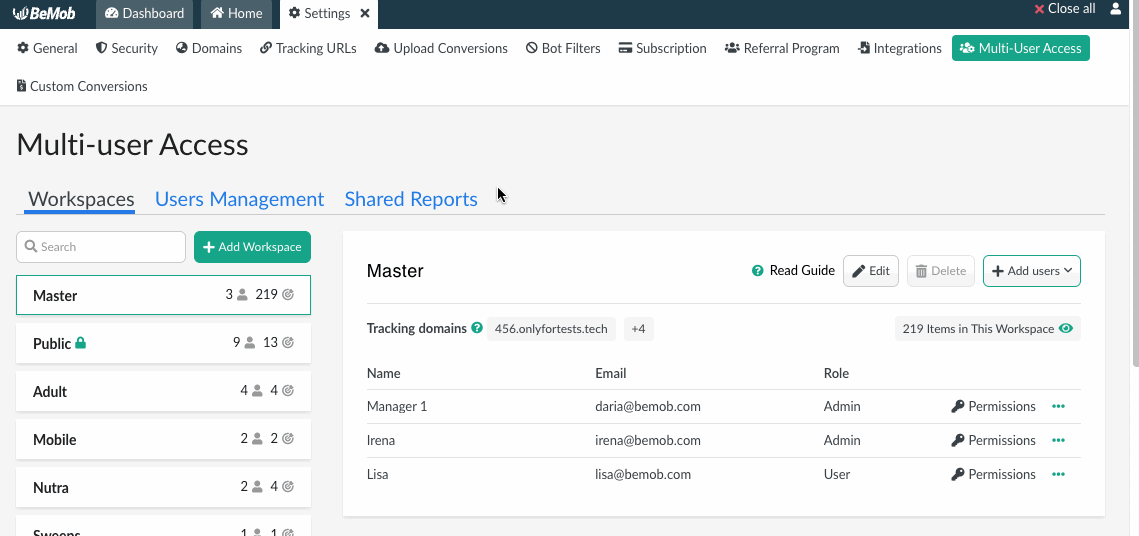 Hope this guide will help you to start making changes and save your time to dedicate it to other valuable things.
Have an idea of how the routine can be more optimized? We will be glad to hear from you and implement it.
Share your ideas with us using the live chat in the BeMob panel or at support@bemob.com 👋