This is the second interview under our blog section called "Trackie-talkie". The previous one is available here.
We are glad to announce that today our guest is Sasha K., Key Account Manager at Adsterra.
But first, a few words about Adsterra.
About Adsterra
Adsterra is a global advertising network with partner care as its first priority. We help advertisers meet their KPIs and grow ROI while publishers get higher payouts with our easy-to-use advanced traffic solutions and the industry's best team.
Advertisers and affiliates get full access to high-quality traffic from 21K direct publishers as well as to innovative, AI-based platform features.
248 GEOs
21K publishers
30B+ impressions monthly
20 targeting options
Budget-saving smart tools: Traffic Estimator, Custom Bid, Traffic Chart
Multiple cost models: CPM, CPC, CPA, RTB
S2S Tracking solutions
All top ad formats: Adsterra Popunder, In-Page Push, Social Bar (unique!), Native Ads, Display Banners, VAST Video Ads
Personal growth manager for managed accounts
User-friendly Self-Serve Platform
Free template creatives for Adsterra In-Page Push & Social Bar ads available to all users after the registration.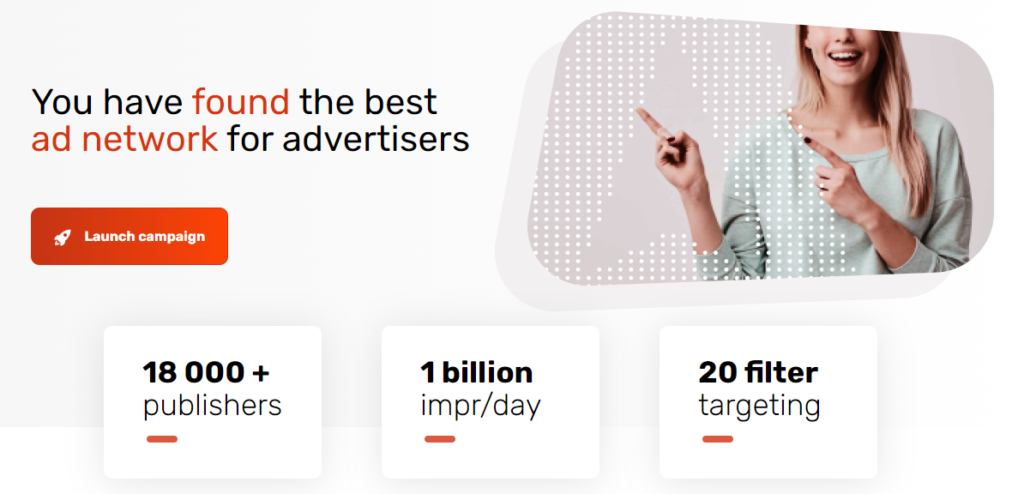 – Hi, Sasha. Can you please tell us a little about yourself?
– Hi, everyone. Thanks for inviting me as an expert. I'm Sasha from the Adsterra Ad Network's team. I've been a Key Account Manager for over 2.5 years, and my job is to lead advertising campaigns to a higher ROI. I was among the first to have tested and tweaked the innovative Social Bar format before it stormed into the market and won high appreciation.
My passion for advertising comes along with responsibilities since I have to set up multiple CPM, CPC, and CPA campaigns every day, and my goal is to make them convert and return great results. So today, I'm going to share my experience with you, along with a couple of high-energy tips that will help you rock with Adsterra traffic.
– Are popunders coming back? How about Adsterra popunders?
– Well, I believe they've never faded out. If not to add more — pops remain one of the most powerful traffic sources.

I can refer to Adsterra stats that prove Popunders to be an evergreen ad format for both advertising and traffic monetization. Adsterra Popunders are among the most-asked ad units that serve over 2.2B impressions weekly. They have survived the pandemic drop and now seem to spike in popularity. If you're looking for a point of growth with a fresh traffic source, Adsterra Popunders will be your best choice.
Our partners can launch CPM and CPA Popunder campaigns from the Self-Serve Platform or with their manager's assistance.
We're monitoring the market, capturing what's trending on Popunders and other units. Advertisers are now launching lots of Android-targeted Utility campaigns. That's for the CPA model. As for the CPM pricing: Ecommerce, Gambling, and Betting offers have recently shown nice conversions; Forex, Binary, and Crypto are gaining back popularity.
By the way, the Binary and Crypto market is creating a stir now, and many affiliates have started testing new traffic sources with Pops. They remain one of the most usable advertising formats as they don't require any creatives, only prelanders.
– What is Adsterra Social Bar or Adsterra In-Page Push?
– I will start with my own definition cause I love this ad format for its functionality. Imagine all the HTML, CSS, JS capacities packed within a lightweight iframe. That's what Social Bar is! A limitless ad format that pushes all boundaries and allows for making any creative that could ever cross your mind: interstitials, video ads, carousels, countdowns, and a whole load more variations.
But you probably would like to hear a more user-centric definition, right? 🙂 Okay, then, I would say that Adsterra Social Bar is a mix of display and In-Page Push ads that can help you jump to higher click-through rates and conversions. The In-Page Push format is a tip of an iceberg here. We have over 20 templates on the SSP for advertisers. What's great is that you can try up to 15 different creatives based on templates within one campaign. These are icons, notifications, chats, widgets, social media messages, and many more.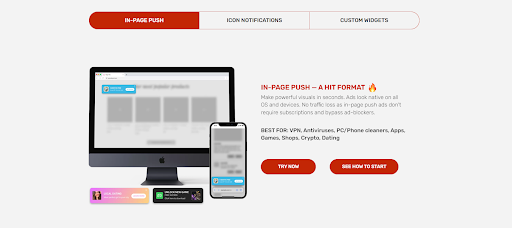 What can I add about Social Bar? It powers campaigns with loads of clicks — up to 30 times higher CTRs compared to web push ads, as of our stats. Even newbie affiliates enjoy the lowest entry barrier as they operate with ready-to-use templates with guaranteed results.
– How to start with Adsterra? Can you share the best tips for beginner advertisers?
– I'll try to keep it short and simple, however this question demands a huge tutorial 🙂 Anyway, if you're a beginner, you can go for some proven tips to start with Adsterra.
1. To begin with, Adsterra offers you several smart tools to estimate traffic and competition as well as to optimize budgets. Whenever you start your Adsterra campaign, don't ignore these tools.
Traffic Chart shows how many impressions you can get with your geo and campaign settings.
Traffic Estimator recommends optimal bids to get enough traffic and compete for the juiciest ad views.

We also have a very helpful Offers Wishlist where affiliates can check with the offer examples that hit within our system.
2. Second, and once again — always keep in touch with your manager. They will advise on which offers are trending now, which prelanders to pick, which budget to start with. We're your team and play on your side 🙂
3. Track, track, and track everything. A good tracking tool is a must. It might seem that you know your traffic sources well, but you can't underestimate the competitors and market trends. Anyway, you will be able to diversify funds wisely only when you control each of your campaign's KPI.
I always recommend adding a placement token to track how well your traffic sources perform. You monitor conversions, that's great, but to be able to range all placements and adjust your bids/payouts between them, ensure you added the PLACEMENT_ID token to the offer's URL. And paste it into your tracker as well 🙂
Advanced trackers will save your money and provide you with hundreds of insights for further moves. You can set up S2S cookieless tracking from your Adsterra account.
By the way, Adsterra is happy to have a built-in integration with BeMob. So use this chance to start tracking conversions 😉
Learn more about how to set Adsterra campaign with BeMob in our guide.
4. My following advice is to decompose traffic. What does it mean? Well, it differs from campaign optimization. When you decompose, you make several large slices of your traffic by setting up a separate campaign for each of them. This gives you a pretty clear picture of how to bid and how to optimize in the future.
Let me give some examples here. You can slice traffic into mainstream and non-mainstream (or niche). As you may know, affiliates usually add non-mainstream traffic VPN, Gambling, and Crypto campaigns. It helps a lot when you can watch each of the large traffic slices separately.
Your mobile ad campaign can be divided into two with iOS and Android traffic. These two slices vary by user behavior and costs, hence you will have more transparent data with two separate campaigns rather than with one.
Make sure to split all traffic slices by GEOs; the same websites can return different results on different GEOs.
Traffic decomposition is vital for your next steps like campaign scaling and optimization.
5. What comes next? I would draw your attention to some tools that simplify your campaign verification. Use them, they really help! For instance, you can attach your offer's lander previews. When using a prelander, add a screenshot, too. This will speed up the verification process, saving your precious minutes.

6. Powerful creatives and prelanders make it halfway to success. We usually advise using prelanders for Popunder campaigns. As for In-Page Push creatives, it is better to upload as many as possible but not fewer than four. While optimizing, you will need to refresh both creatives and prelanders. So keep an eye on your CTRs: as soon as you notice them dropping, upload the new ones.
7. Last but not least comes budgeting. As we're listing tips for beginners, I won't set out in detail the budgeting strategy. But what's truly crucial is to plan your spending.
Traffic is volatile, and you need time to test it, to embrace all ad views and conversions possible. If you drain your budgets overnight, you won't get anything apart from frustration. So try to allocate spendings for several days. A week-long first test will be enough for the majority of verticals.
Use limits (with Adsterra you can set them up for every campaign) to control spending: total, daily, even hourly.
– Can you please share Adsterra ad optimization tips?
– What I usually advise advertisers is not to think of ad optimization as rocket science. It's more about persistence, will, and everyday routine that can save thousands of dollars.
Ok, let's assume that you have already broken down your traffic into large slices based on traffic type, devices / OS. What's next?
1. Your first optimization step is — surprisingly — test your campaign with RON (run of network) settings and a minimal recommended bid. When you test right, you try to reach all ad inventory possible to pick the best converting placements. This comes as the basis, the basis for finding prospective traffic sources that can be optimized later. RON settings save you from budget draining, in addition.
2. My next general tip for ad optimization is to stay away from ready whitelists and blacklists when you've just started running your campaign. Even if you've managed to find a white- or blacklist, it may not match a new traffic source (aka ad network.) So, apply for white- and blacklists — or create them yourself— only after you pass the RON testing stage. And let's move on to the next piece of advice that is connected with this one.
3. If you haven't done it earlier, then make sure to add a placement token to your offer's URL. Only this way, you will be able to collect data for blacklists and whitelists and apply Adsterra smart optimization tools like Custom Bid.
4. Speaking of smart ad optimization tools… You can use Adsterra Custom Bid. It allows for setting up bids manually. Custom Bid saves money on those sources that underperform and boosts those sources that send the hottest traffic.
Moreover, you can retest your blacklists with the Custom Bid. The tool recommends minimum bids for GEOs you pick, so you will get the up-to-date rates for the lowest-performing placements. Why not give them a chance with lowest risks? Maybe, you will find some new gems here?

5. Make use of pricing tokens, especially when using the Custom Bid tool. You can add them to your offer's URL and monitor your spending for conversions and clicks.
6. My next advice will be about narrowing your targeting. Now that you can estimate traffic performance, it's time to spotlight the best segments. A no brainer here, actually. Use every possible setting to detect the best-performing sources:
OS;
browser version;
language;
carrier (if you're running a Carrier Billing offer);
time range, etc.
A couple of words about Language targeting. It's important not to over-optimize your campaign with this setting. For instance, you won't normally need the 'English language' targeting setting when running ads in English-speaking countries like the U.S. or the U.K. It will be a bit extra. But when you want to reach, say, a Spanish-speaking audience in the same GEOs, then, you will definitely need to add this setting.
– What would you like to tell our readers?
I will end up advising on a must-have skill you need to pump up: communication. Never underestimate the power of communication with your manager. Need a fresh prelander idea? Here you go! Want to learn where's the best traffic for your offer? Just drop a line in the chat! Lots of insights will come much easier when you have a supportive pro by your side.
– Thank you for taking the time to talk to us today!